Great Ocean Road
12 Apostles
Gibson's Steps to Port Campbell
PDF Great Ocean Road Travel Notes Gibsons Steps to Port Campbell


Great Ocean Road Satellite Image Gibsons Steps to Port Campbell
Gibson's Steps lead down to a white sandy beach in lower right hand of image. The black curving portion of lower right of image is the estuary of Gellibrand River. Port Campbell is in upper left hand of the image. The 12 Apostles visitor centre and viewing area is on coast directly in line with right hand boundary of green area. Follow boundary and thin white line to coast and small headland is one of 12 Apostle viewing platforms. As evident in the image the coast along this section of the Great Ocean Road is very rugged with numerous headland and islands. The prominent point is part of Loch Ard Gorge viewing area. In many ways Loch Ard Gorge is much more spectacular than the 12 Apostles and is a must see on any Great Ocean Road trip.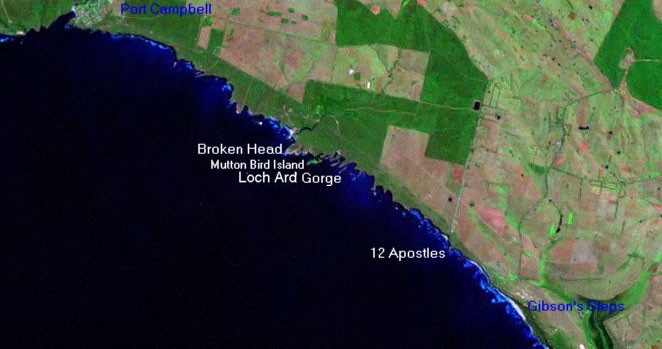 12 Apostles Lochard Gorge Port Campbell
Road Video
Aerial Video
Aerial Photos Gibsons Steps to Port Campbell 12 Apostles Loch Ard Gorge area aerial location
Picture Gallery 12 Apostles Loch Ard Gorge area Port Campbell
Things to Do and See 12 Apostles Port Campbell
Shops Fuel Eating Accommodation 12 Apostles Port Campbell
Back to Main Great Ocean Road Map
Next Section of the Great Ocean Road Port Campbell to Peterborough
Previous Section of the Great Ocean Road Lavers Hill to Gibson Steps

Great Ocean Road Facts
12 Apostles Loch Ard Gorge Port Campbell
Port Campbell was named after Captain Alexander Campbell who was in charge of whaling out of Port Fairy and used Port Campbell Bay for sheltering on whaling trips.
In 1846 two pastoral stations were established one of which was Glen Dample Station that featured in the wreck of the Loch Ard.
The Loch Ard was wrecked at Loch Ard gorge in1878.
The Great Ocean Road township of Port Campbell was surveyed in 1875.
A pier was constructed at Port Campbell in 1880 close to the existing pier.
Tourism became popular in the area during the 1890's but the railway never got further than Timboon.
Tourism resulting from Great Ocean Road visitors supports excellent restaurants, takeaway food and accommodation in Port Campbell.
The Twelve Apostles are now reduced to seven with the collapse of a major formation in 2005.
The Arch bridge at Loch Ard Gorge collapsed in 2009 creating two unconnected formations.
Thunder Cave one of the best features at Loch Ard gorge had been closed.
In mid 2010 it was found that part of the viewing platform at the 12 Apostles was undermined and it was closed.