Great Ocean Road
Port Campbell to Peterborough
PDF Great Ocean Road Travel Notes Port Campbell to Peterborough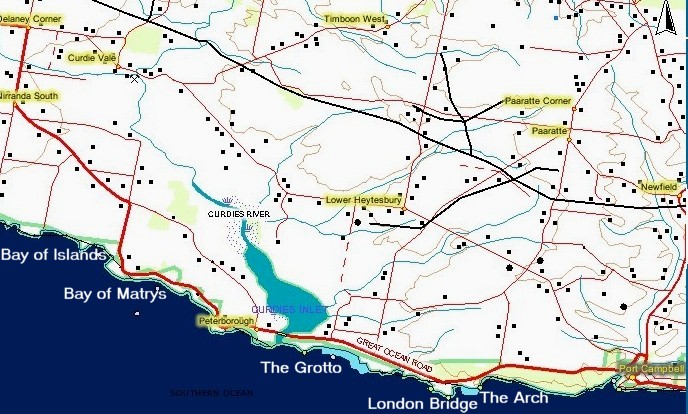 Great Ocean Road Satellite Image Port Campbell to Peterborough
Port Campbell is in lower right of this Great Ocean Road image. The estuary and mouth of the Curdies river is located in left hand third of Image. Peterborough is located on left hand bank at the mouth of this Curdies River. The Bay of Martyrs and the Bay of Islands are clearly visible in left hand of image. The Bay of Islands is possibly the best natural feature along the Ocean Road. We will leave it up to you to decide. The London Bridge feature is located in the lower middle of the image just to right of southern most tip of land. Other natural features The Arch and The Grotto are located along the rugged section of coast line between Port Campbell and Peterborough. The Arch is a must see feature on any Great Ocean Road trip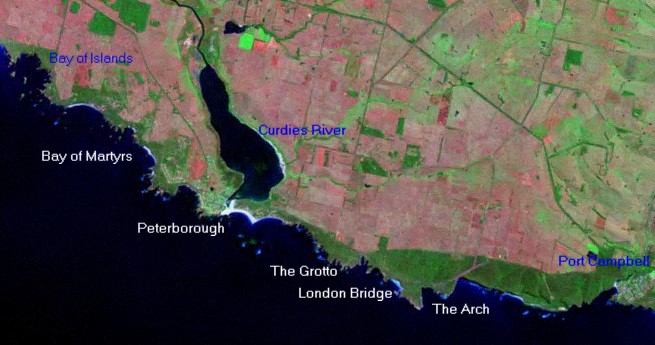 Port Campbell to Peterborough
Road Video
Aerial Video
Aerial Photos Port Campbell to Peterborough Bay of Martyrs Bay of Islands
Picture Gallery The Arch London Bridge The Grotto Peterborough Bay of Islands Bay of Martyrs Boat Harbour
Things to Do and See Port Campbell Peterborough
Shops Fuel Eating Accommodation Port Campbell Peterborough
Back to Main Great Ocean Road Map
Next Section of the Great Ocean Road Peterborough to Warrnambool
Previous Section of the Great Ocean Road Gibson Steps to Port Campbell

Great Ocean Road Facts


Port Campbell to Peterborough
The Great Ocean Road town of Peterborough is home to approximately 200 people.
Peterborough's Post Office was established in 1890
.
The first settlement in Peterborough is believed to have occurred around the 1850's as a result of ship wreck victims deciding to settle in the area.
The Arch formation located approximately 5 kilometres from Port Campbell is arguably one of the finest individual geological features on the Great Ocean Road.
On a clear day you can look across the water to the back of the Twelve Apostles.
In January 1990 a couple were walking to the end of London Bridge when the arch connecting the bridge to the mainland collapsed. They were rescued by helicopter.
Peterborough is located on the estuary of the Curdies River.
Peterborough has a scenic 9 hole golf course.
The Bay of Islands is possibly one of the best panoramas on the Great Ocean Road.